Metalized Films
We manufacture a wide range of metalized Biaxially Oriented Polyethylene Terephthalate (BOPET) Films; Biaxially Oriented Polypropylene (BOPP) Films and Cast Polypropylene (CPP) Films under the brand name FLEXMETPROTECTTM. Our cumulative production capacity of FLEXMETPROTECTTM films across the six manufacturing locations globally is approximately 1,73,700 TPA (382 million lbs per annum).
FLEXMETPROTECTTM films are available in the following thickness ranges:
6.5 - 75 microns for BOPET;
8 – 75 microns for BOPP;
18 – 200 microns for CPP
These films demonstrate high barrier against oxygen and water vapour and find extensive use in manufacturing packaging material for products that require extended shelf life, apart from host of applications in the textile and capacitor industries.
To view FLEXMETPROTECTTM films' applications Click here
We manufacture a wide range of Metalized Films:
---
---
---
---
---
---
---
---
---
---
---
---
---
---
---
---
---
---
---
---
---
---
---
---
---
---
---
---
---
---
---
---
---
---
---
---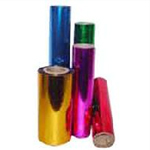 ---
Film Grade: F-MTG-PZ-M, F-CLR-PZ-M, F-XLR-PZ-M
Thickness (Microns): 9 - 50 μm
Properties: These grade are Plasma Treated Metallized BOPET Films with one side Plasma Treated and the other side either Corona Treated or Untreated. Plasma Treated Metallized films are specially designed to meet the stringent requirements of barrier properties. The films have superior gloss when metallized on optically clear base film, and further improved gloss when metallized on extra clear base film.
Application: Flexible Packaging, Duct Insulation, Lamination and Decorative applications.
Download Data sheet
---
Film Grade: F-CHE-PZ-M, F-CHC-PZ-M, F-CLR-C1-PZ-M, F-CLR-C2-PZ-M, F-XLR-C1-PZ-M, F-XLR-C2-PZ-M
Thickness (Microns): 10 - 23 μm
Properties: These grade are Chemical Coated Plasma Treated Metallized BOPET Films films with one side Plasma Treated and the other side either Corona Treated or Untreated. Plasma Treated Metallized films are specially designed to meet the stringent requirements of barrier properties. The films have superior gloss when metallized on optically clear base film, and further improved gloss when metallized on extra clear base film.
Application: Flexible Packaging, Duct Insulation, Lamination and Decorative applications.
Download Data sheet
---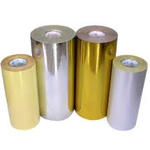 ---
Film Grade: F-DSC-AP-M, F-DSC-CA-M, F-DSC-CC-M, F-DSC-CP-M, F-DSC-PM-M, F-DSC-PP-M
Thickness (Microns): 10 - 50 μm
Properties: Thease grades are both side coated Metallized BOPET films.The metallization is available on either side as specified by the customer. These films are available in optical densities ranging from 2.2 to 2.8, this wide range gives options to the customer to use the product for a diverse range of applications.
Application: Applications vary by coating type.
Download Data sheet
---